Catherine the Queen
Written by Charlotte and Royce Ryton
Directed by Janet Pearce
7 – 12 April 2003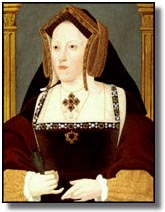 New play adapted by the authors and producers of a proposed TV serial. The story of Catherine of Aragon's fight to remain queen of England, though she is unable to produce the son that Henry VIII demands. Henry resorts to a denial of the Pope's authority over the English Catholic church to achieve a divorce and permit a second marriage.
Cast
Catherine of Aragon – Paula Williams
Henry VIII – Toby Masson
Anne Bullen, Servant – Claire Lewis-McClean
Cardinal Wolsey, Steward, Crowd – Peter Richardson
Henry VII, Canon, Crier, Priest – John Marchant
Queen Elizabeth, Midwife, Lady, Crowd – Annette Marchant
King Ferdinand, Privy Councillor, Archbishop, Crowd – Ian Giles
Queen Isabella, Lady-in-Waiting, Servant, Mother – Christine Mabbott
Estrada – Spanish Ambassador, Doctor, Priest – Colin Bailey
Mendoza – Spanish Ambassador, Privy Councillor, Priest – John McLaren
Cromwell, Richard Pole, Privy Councillor – Peter Gray
Cranmer, Courtier, Herald – Steve Kent
Cardinal Campeggio, Doctor, Privy Councillor, Crowd – Barry Hooper
Courtier, Messenger, Tradesman – Graham Frosdick
Courtier, Filipo, Friar – Mark Pike
Courtier, Spanish Servant, Tradesman – Graham Frosdick
Duenna, Lady-in-Waiting – Pauline Ellard
Margaret Pole, Spanish Lady-in-Waiting – Samantha Langford
Servant, Old Woman, Customer, Crowd – Betty Bailey
Servant, Tradesman, Crowd – Eric White
Prince Arthur, Page, Crowd – Martin Meehan
Prince Henry, Page, London Apprentice – Tommy Franklin
Youngster, Page, Crowd – Zoe Gosling
Crowd – Pamela Horner, Kerry Mapp
Crew
Stage Manager – Graeme Horner
ASM – Margaret Baird
Set Designed by – Graeme Horner
Set Built by – Graeme Horner, Dave Birmingham, Tony Bate, Len Huntley, Eric Crichton, Bill Brookes, Maurice Tripp, Mick Holland, Michelle Featherstone
Lighting – Peter Bennett
Properties – Pamela Horner, Kerry Mapp, Carolynn Birmingham
Sound – Karen Goldberg
Costumes – Christine Angell, Lisa Mayes
Music Recording and Arrangements – Suzy Pearce
Dance Choreographed by – Stella Jarman