Dick Whittington
December 30-31 1949 and January 4- 7 1950
Erith Playhouse's very first pantomime!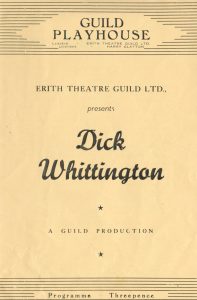 Cast
King Rat – Gil Dyer
Fairy Queen – Gillian Leaver
Alderman Fitzwarren – George Ayers
Polly – June Betteney
Idle Jack – Dennis Oliver
Liza the Cook – Neville Marchant
Dick Whittington – June Mercer
Tommy the Cat – Sheila Spring
Alice Fitzwarren – Eileen Davis
Captain of the Good Ship Saucy Sally – Reg. Oliver
Mate of the Good Ship Saucy Sally – Bert Green
Davy Jones – Harry Clayton
Miranda the Mermaid – Elsie Higley
The Princess of Morocco – Dena Laing
The Emperor of Morocco – George Ayers
Ladies of the Chorus – Brenda S. Forsdike, Elsie Higley, June Betteney, Dena Laing, Joan Runacres, Tina Fitness, Betty Fox, Mary Babot.
Ballet
Gnomes – Rosemary Philpott, Janette Page, Diana Linton
Fairies – Barbara Knight, Jean Maycock, Yvonne Large, Fay Hutchinson, Sally Chapman
Rabbit – Sylvia Wellin
Pearl – Marie Faux
Topaz – Sally Chapman
Ruby – Mary Parker
Diamond – Sylvia Wellin
Crew and Creative
Ballet Director – Betty Goodman
Original Music – Robert Leaver, Sid Wood, Fred Hate
Decor and Special Costumes – Gil Dyer
Scenery – Erith Theatre Guild
Costumes – Eric Ward
Wigs – Charles H Fox Ltd
Special Lighting Equipment – Strand Electric
Stage Managers – Charles Fitch, Bert Harfst
Electrician – Robert Leaver