Page 3 Murder
Written by Larry Breghel
Directed by Christine Angell
8 – 13 September 2003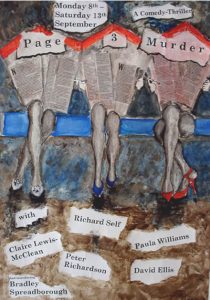 This stylish comedy-thriller involves lots of people – none of whom are quite what they seem. Attractive glamour model Jenni Brandon and her ex-boyfriend have concocted what appears to be the perfect plot to obtain a large amount of money. The scam involves Jenni's current boyfriend and his parents, lustful MP Geoffrey Holden and stepmother Marion. However, there is more than one plot around, so many twists and turns, double crossings and bluffs, that this play kept our audiences on their toes until the final curtain!
Cast
Tom Holden – Michael Bate
Jenni Brandon – Claire Lewis-McClean
Geoffrey Holden – Peter Richardson
Marion Holden – Paula Williams
Len Carrington – Richard Self
Mason – Bradlee Spreadborough
Hewlett – John Sinclair
Crew
Stage Manager – Jane Richardson
Assistant Stage Manager – Marjorie Penny
Properties – Samantha Langford, John Sinclair
Wardrobe – Marjorie Sawyer
Lights – Wendi Freeman
Sound – Sue Biggs