Private Lives
Written by Noel Coward
Directed by Ian Macdonald
24 February – 1 March 2003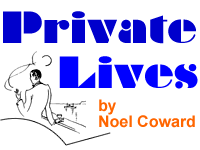 Amanda and Elyot have divorced and both have recently re-married. Both newly-wed couples go on their respective honeymoons, only to find they are occupying adjacent hotel suites. In this setting, Amanda and Elyot rediscover their romance, and the plot goes full circle in the course of much robust Coward wit and banter.
Cast
Sybil Chase – Claire Lewis-McClean
Elyot Chase – Richard Self
Victor Prynne – John Hart
Amanda Prynne – Suzannah Churchill
Louise – Kirsty Duncombe
Crew
Set Designer and Stage Manager – Graham Peters
Assistant Stage Manager – Betty Bailey
Properties – Pat Vale, Marion Ellis
Lighting – Pam Hunt, Alan Hunt, Peter Bennett
Sound – Tom Ellis, Keith Jarman
Wardrobe – Marjorie Sawyer, Carole Bramall